Artisans and Engravers
Arte Veneziana's Craftsmen
A team of artisans and passionate people
The real heart of Arte Veneziana is made up of artisans. In fact, the company is well known throughout the world for its craftsmanship and high artistic value. Our master craftsmen were trained in historic Italian art schools and took their first steps in the famous Murano glass ateliers. Here in our company experienced artisans use their skills and know-how to create mirrors and excellent furniture for selected clients.
Company values
The way we work
Handcraft and precision
Few people know or can imagine how much work and passion are required to create a handmade object. It takes patience, accuracy, observation, trial and error and time. Making the best use thereof entails effort and commitment.
All these elements constitute the value of handmade objects and this is the reason why craftsmanship acquires a higher value than things created in a serial industrial process.
Our Manufacturing
Who We Are
A Tour Inside our Offices and Production Departments
In Arte Veneziana, mirrors, furnishings and wooden pieces have always been produced by coating them with skillfully crafted glass.
The glass is cut, beveled and engraved manually by artisans, performing every stage by hand with the aid of small tools, grindstones and diamond tipped engravers, perfectly in line with our Venetian tradition.
The high level of craftsmanship allows for customisation of every single element and create it according to the customer's taste and needs just like a tailored suit, with a decorative style made of transparency, light and reflections defined by a profound elegance.
Carpentry Department
Woodwork
Chop Your Own Wood and it Will Warm You Twice
The carpentry division produces all the main structures of Arte Veneziana's products. These could be a single free-standing interior design piece or an architectural element of the house - like doors, screens, kitchens, walk-in wardrobes, wall coverings and more.
A wide range of wood, from the most humble to the most prestigious, is always available to answers any clients requests in terms of requirements and finishings.
Woodworkers use computer numerical control machines to cut the main structure, but the heart of this department is the huge amount of manual work that goes into the smoothing and finishing curved and decorated wood.
Carpentry department
Finishings
Varnishing, Lacquering and More...
Our furniture and mirrors are carefully finished by using different techniques and materials like silver and gold leafed coverings or several lacquered touches and coatings.
Beside the work of creating, our carpenters are called to travel worldwide on demand, to supervise the correct assembly of the manufacture on site and to make sure that the high craft quality of all mirrors and furniture is respected.
Glassmaker department
Glass cutting
When millimeters count
The rough glass cutting is performed by the computer numerical control machine according to the drawing realized by our technical department.
The cut glass is adjusted by hand to the wooden structure of each single item. When it comes to curved surfaces, our glassmakers double check every edge carefully.
Thanks to numerical control machines, our technicians also perform the edge polishing and the bevelling on whatever glass, whether linear or of irregular shape.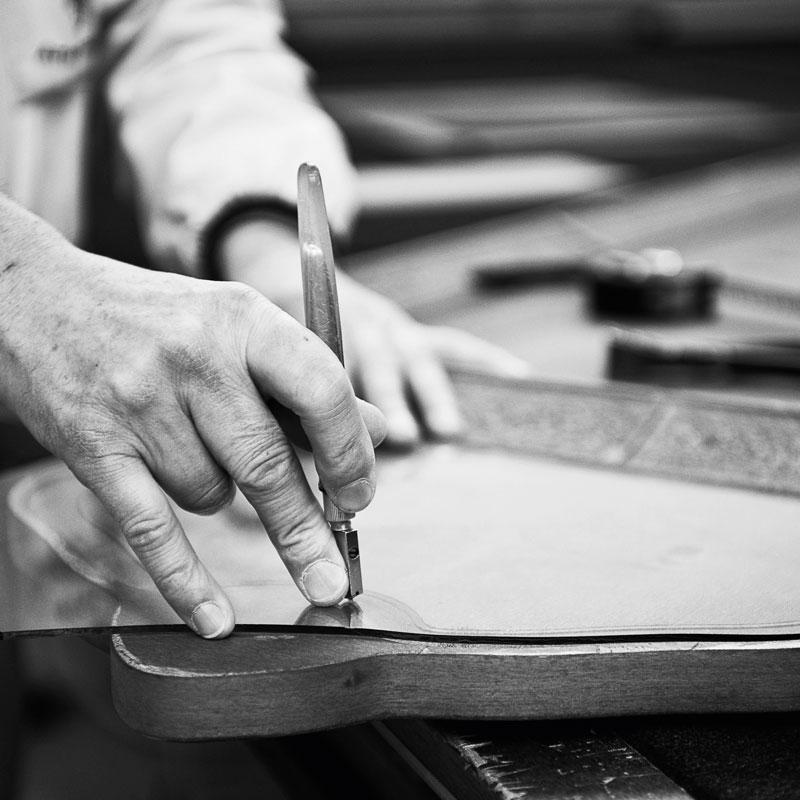 Glassmaking Department
Artistic Bevelling
Shaping Silhouettes
Our glass masters use different wheels to chamfer and obtain shiny glass pieces that will be used on the mirrors and furniture afterwards.
This is a fundamental step in our production: no machines can replace the manual work on this extremely delicate matter. The bevelling can only be realised with a long and precise handmade procedure.
An ancient engraving manufacturing process which still remains entirely handmade as per Venetian traditions.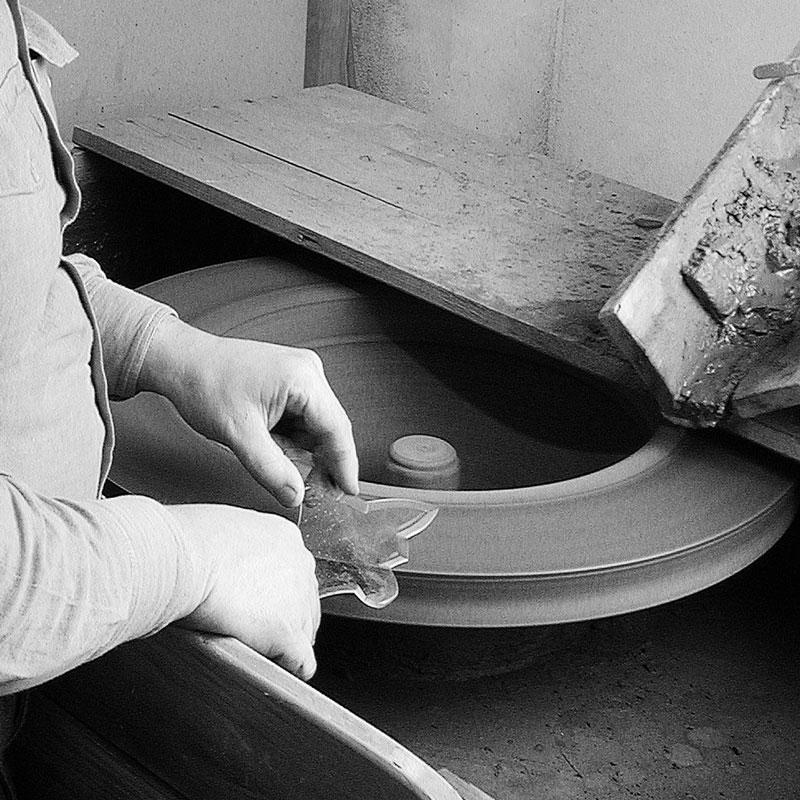 Glassmaking Department
Glass Engraving
Call it Magic
"Glass engraving is a kind of process that requires not only accuracy in choosing the appropriate grinding wheel, but also great mastery and creativity in the drawing".

There are many things that a good engraver should consider at the same time. It is very important to acknowledge which grinding wheel is suitable for the level of detail that has to be achieved.

A good engraver must control the hands on the spinning wheel in order to follow, with the right accuracy and pressure, what the mind thinks.
So the mind has to be perfectly tuned in with the hands.
An innate artistic aptitude and the passion for working with one's hands are the real added values that identify a good master engraver.
Glassmaking Department
Silvering
Reflecting Surfaces
The silvering process is an entirely handmade and very important step in our production. The final mirrored effect can be defined according to clients' wishes.
We are able to perform different kinds of
antiqued silvered finishings
and polychromed finishings with an anti-corrosion copper plating.
Shipping Department
Quality Control
Nothing but Perfection
Finally the quality control team makes sure that the customers requests have been respected, both from a technical and a decorative point of view.
Post-sales feedback is very important for us to better our service and to make sure that clients are satisfied.


Shipping Department
Packing
​The Shell of an Oyster only Hides the Pearl Inside
All items are protected by bubble wrap, pressed recycled paper and polystyrene and packed in custom made wooden crates according to their size.
The crates are thoughtfully prepared for each different kind of transport be it air, sea or truck.

If requested, we can arrange the shipment on behalf of the client and we are able to quickly provide spare parts or solve any kind of complaint due to damage during the transportation, assembly or use.

Are you a designer? Is something swirling around in your mind? We can help you realising your concepts by creating the perfect tailor-made solution you are dreaming of