Feel the Magic of The Arabian Nights Tales
Sharazad Family Line
For Princesses Only
This family line tells a story of magic and wonder. The name of the line itself is inspired by the main character of one of the world's most famous Tales; Arabian Nights. The princess Sharazad is the storyteller of a magnificent collection of ancient tales that are used as entertainment for her jealous and murderous husband. Every piece of furniture that belongs to the Sharazad family line is richly decorated and minutely etched. The result is a precious and unique jewel.
Handcrafted Luxury Wardrobe with Crest
Visir Venetian Style Wardrobe
Three Doors with Artistic Engravings
Flowers, leaves and sharp etchings for the magnificent armoire Sharazad, the huge and precious piece of furniture inspired by the famous princess of The Arabian Nights Tales. This wardrobe is a timeless and rich jewel that reminds us of faraway places and dreamy Arabian nights.

Materials

Structure made of wood with mahogany semi-matte finish.
Four tapered legs made of wood with silver leafed finish.
Three doors with Evora pull handle and soft-close system.
Inside and back made of wood with mahogany semi-matte finish.
Three adjustable wooden shelves in each compartment.
LED spotlights on the inside.
Doors, sides and frame made of glass with clear mirrored finish.
Call it Magic
Glass Engraving
Sharazad Decor
"Glass engraving is a process which requires great mastery and creativity in the drawing, as well as ability in performing the engraving and choosing the appropriate grinding wheel."
There are many things that a good engraver should contemplate simultaneously.
Choosing the suitable grinding wheel for the specific level of detail is key.
A good engraver must also control the hand pressure on the spinning wheel in order to follow with the right accuracy what the mind wishes.
So mind and hands have to be perfectly tuned.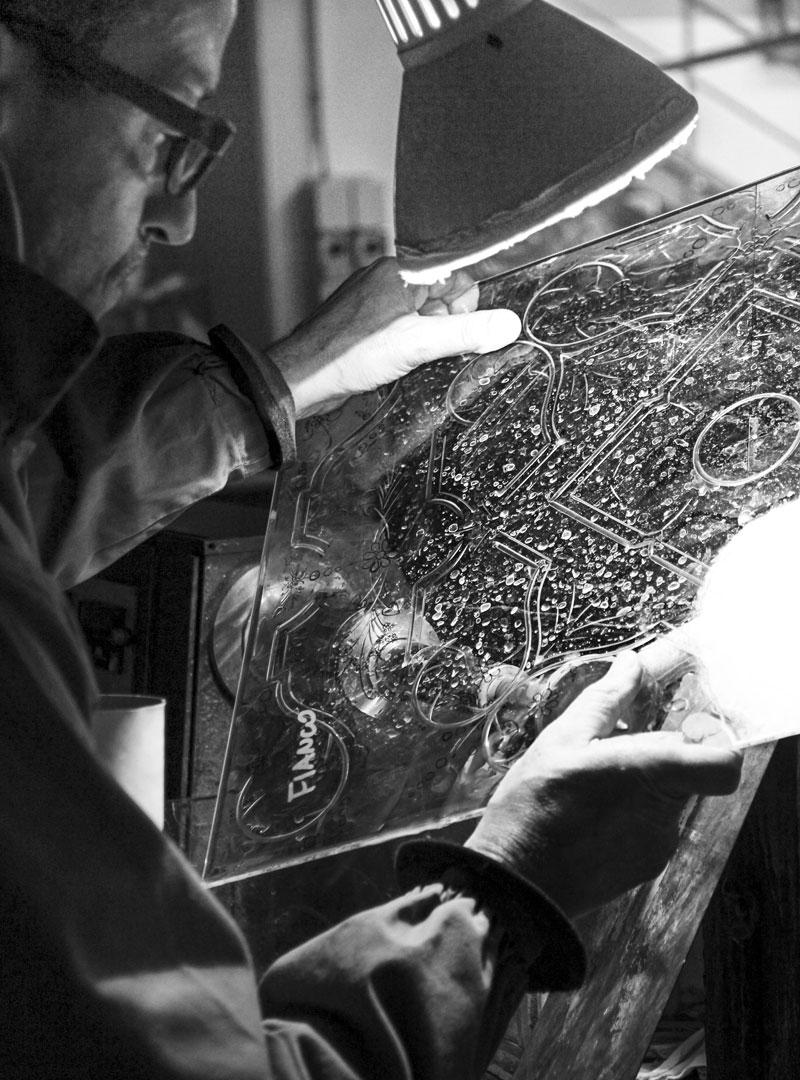 Product Designer
Leo De Carlo
Venice
Leo De Carlo was born in Venice in 1972. He graduated in Industrial Design from the Milan Polytechnic in 1998. He worked for Philippe Starck in Paris from 1999 to 2003, handling furnishings, lighting, electronics and interior projects.
He returned to Italy in 2003 and went into business on his own. He currently lives and works in Venice.
Are you a designer? Is something swirling around in your mind? We can help you realising your concepts by creating the perfect tailor-made solution you are dreaming of