Engraving
Artistic Engraving
Meet our youngest master engraver Giulia and dive into his work
It is time to slow down, chill and appreciate the art of true artistic manufacturing.

Discover the artistry of an antique trade, the beauty of Venetian Glass Making Tradition and our unique country.
Italy and its people.
The master and his art
Visir wardrobe
Focus on: engraving techniques
The Visir wardrobe belongs to the Sharazad family line.
This family line tells a story of magic and wonder. The name of the line itself is inspired by the main character of one of the world's most famous Tales; Arabian Nights
Flowers, leaves and sharp etchings for the magnificent armoire Sharazad, the huge and precious piece of furnisher inspired by the famous princess of The Arabian Nights tales. This wardrobe is a timeless and rich jewel that is reminiscent of faraway places and dreamy Arabian nights.
Who does it?
Giulia
Our youngest engraver
Giulia is 28 years old and was born on the mainland, but the whole family from her father's side comes from the island of Burano, a family of master glassmakers known as the "Boccolo".
She likes to read biographies with female main characters. She shares a beautiful husky named Argo with her boyfriend. She has been an artist for a very long time: Giulia has a beautiful tattoo representing a Mandala that she drew by herself.
Fun fact: She has a platonic love for an Italian tv presentor: the one and only Alberto Angela, a famous documentarist.
Giulia graduated from the Venice Art Institute with a specialisation in glass, played the piano for 8 years, presented "Pictorial decorations on Italian harpsichords between the 16th - 17th centuries" as her thesis at university, combining art and music.
She was welcomed into Arte Veneziana in September 2015 and under Lucio's supervision was able to improve her engraving techniques.
The etching technique
Concept
Best of Giulia
Giulia's particular skill is Venetian-style engravings, but she would like to specialise in figures with anatomical details such as ladies, knights and animals.
She feels she has perfected her technique, but in this discipline you never really stop learning; new designs and different tools are always challenging.
With an eye to the future, she would like to try using paints, experimenting and combining the two disciplines to create something innovative.
In today's society, however, which is constantly in motion and where change is just around the corner, it is very difficult to find the patience, precision and self-control for this job.
In the end all the effort is rewarded when, admiring the final piece, something inside each one of us is awaken; emotion.
Signature marks on glass
Grinding wheel
Great skills and precision
Engraving on a lathe with a diamond paste wheel requires great skill from the artisan; this technique enables to obtain very precise marks of various depths, depending on the pressure applied.
The lathe engraving enables to create figures, from anatomical subjects full of details to geometric designs, with clean lines. The only limitation is the physical one as we have to move the glass over the grinding wheel.
A new technique
Pen engraving
The diamond pen gives the artist more freedom
Pen engraving consists of an electric pen with a diamond paste ballpoint, which can be changed based on what the design calls for. Compared to lathe engraving, the result of this technique is flatter and less geometric.
The benefit of pen engraving is the possibility to engrave on plates of any size.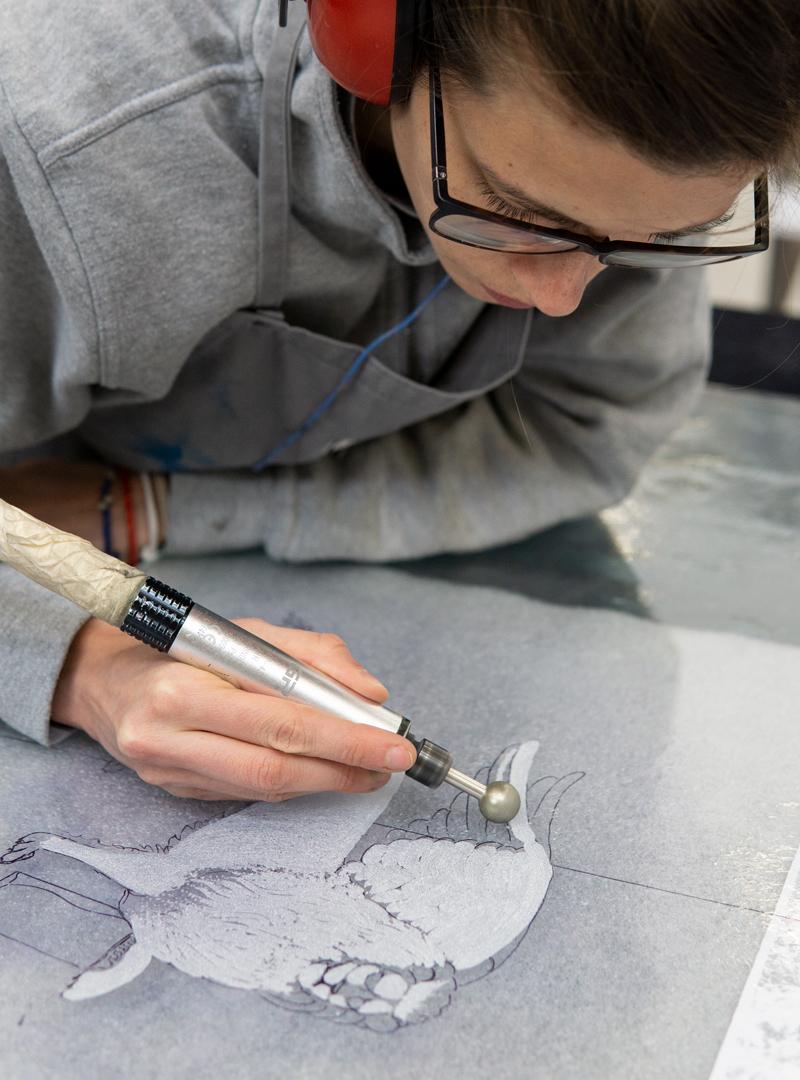 Are you a designer? Is something swirling around in your mind? We can help you realising your concepts by creating the perfect tailor-made solution you are dreaming of