Finishing | Glass artwork
Tuscany
The Sophistication of Decorated Glass. Made in Italy
Arte Veneziana, for over fifty years, committed to pursuing the excellence of Made in Italy craftsmanship, wanted to give free rein to the imagination and creativity of its designers and craftsmen. That's how the finishing section was born. It recounts about accurate studies with colour and combinations between traditional and new materials expressed in a new, contemporary way.
The inspiration comes from nature and its landscapes. The ever shifting variety of colours and shapes are the subjects of the painted glass walls, of the pen-engraved screens, of the finishes of our furnishings. Each finish can be applied in a thousand different ways. You can furnish a wall, cover a cabinet, decorate the doors of a bespoke closet or even apply the decoration to coffee tables or nightstands and, why not, also to chandeliers with a modern twist.
HANDMADE FINISHING
Tuscany
by Gianluca Ferreri
Inspiration

For the creative process of Tuscany Giovanni Luca Ferreri is inspired by what Italian beauty has to offer. Endless landscapes and expanses of wheat fields where tree-lined avenues and beautiful blue skies stand out. It is Tuscany and its postcard scenarios that unleash the creativity of the designer who, in an aesthetic vision, photographs those details reproducing them on glass, the ideal artist's palette. Glass is still the protagonist and here it is painted in earthy nuances with an alternation of gold leaf, gradually fading greens and luminous blues.
Materials
Four glass panels decorated with scratched gold leaf, painted and silvered with heavy antique finish.
Color palette that recalls a typical Tuscan landscape.
Specifications
Standard dimensions of a single panel: L. 80 cm, H. 260 cm
Made in Italy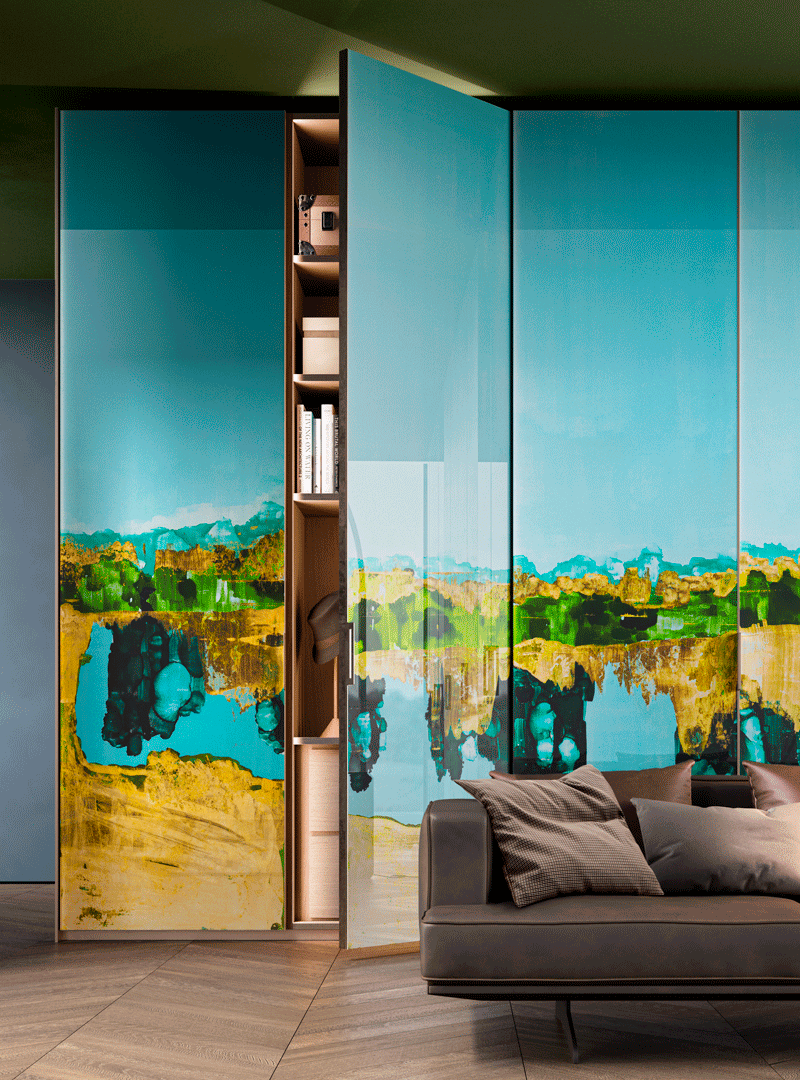 I Need a Tuscany Finishing
GIOVANNI LUCA FERRERI / DESIGNER
Architect and Designer
Giovanni Luca Ferreri
Milan
Giovanni Luca Ferreri was born in Monza in 1970. In 1998 he graduated in Architecture at the Polytechnic in Milan and in 2003 earned the title of PhD in Architectural Composition at the University of Architecture in Venice. Since his initial training and professional experience he has dealt with art, applied art and decoration. Since 2004 he has been teaching Composition and Urban Design at the Faculty of Architecture - Bovisa of the Politecnico in Milan. He has an office in Milan and an important part of his work involves the design and fitting of private homes.
Are you a designer? Is something swirling around in your mind? We can help you realising your concepts by creating the perfect tailor-made solution you are dreaming of